1940's
Some Celtic Programme Collectors and many other collectors may still be confused as to when Celtic F.C. actually introduced a match programme for the first time. Programmes do exist from pre-war, the earliest known is v Heart of Midlothian on 10th August 1929. These issues were produced by an independant company up to and including season 1939-40.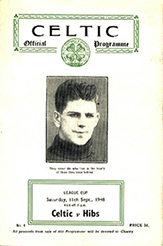 For the visit of Rangers to Celtic Park on the 1st January 1946, a four page programme was issued and the editorial made the following claim 'Today we publish the first issue of an official programme, an innovation by the club which we feel sure will meet the wholehearted approval of our Supporters'. No other issues were seen in the remainder of that season.
Almost a full twelve months later on 12th December 1946, in an eight page programme for the visit of Clyde, a paragraph in the editorial read 'We are pleased to present our first official since the war which will in future be published every Saturday the first team are playing at home' The Club kept their word and a programme appeared on every Saturday for the remainder of the season (I personally take the Clyde issue as the first official programme).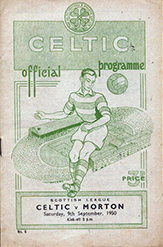 Season 1947-48 saw Celtic issue for every game except one (v Queen's Park) and the following season again had only one omission. For the visit of Hibernian on the 11th September 1948, a special 12 page programme was issued, priced 3d. It was dedicated to the memory of John Thomson and all the proceeds from the sales were to go to charity. On page 3 there was an interesting article titled 'How I signed John Thomson' by Steve Callaghan, a Celtic Scout.
The price of the programme remained at 3d (it was 2d from 12th December 1946), until the 19th April 1969 when it 'jumped' to 6d for the start of season 1969-70.
Season 1949-50 saw the odd miss in producing programmes. The first three issues of season 1950-51 saw the usual style of cover, but from the 9th September (v Morton), until the 16th December (v East Fife), a total of eight issues, there was a cover design change. The other contents of the programme remained unchanged. These few issues saw the cover of the programme show an aerial view sketch of Celtic Park and a sketch of a Celtic player above.