Match Stats
Opponents: v Real Madrid
Competition: Alfredo Di Stefano Testimonial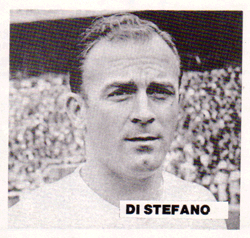 Date: 07/06/1967
Venue: ESTADIO SANTIAGO BERNABÉU, MADRID
Score: 1-0
Scorers: Bobby Lennox
Referee: Senor ZARIQUIE (Colegio Navaro)
Attendance: 130,000
Comments: There is no official programme for the di Stefano match. The programme shown here is a modern, limited edition programme made in 2011. Celtic played this match as Champions of Europe having just defeated Internationale Milan days before in Lisbon.
Good copy of the match ticket sold for £4, June 2022, 6 bids.
Celtic Team
Manager: Jock Stein
Scorers: Lennox
Team: Fallon, Craig, Gemmell, Clark, McNeill, O'Neil, Johnstone, Murdoch, Wallace, Auld

, Lennox.
Madrid Team
Manager: Miguel Muñoz
Scorers: n/a
Team: Junquera, Calpe, De Felite, Sanchis, Pirri (Pachin 78), Zoco, Serena, Amancio

, di Stefano (Grosso 15), Velesquez, Gento.