Scottish Cup Final 1988
Celtic FC 2 Dundee United FC 1
Saturday, 14 May 1988
Hampden Park, Glasgow
Attendance: 74,000
Referee: G.B.SMITH (Edinburgh)
This was Celtic's centenary year, the league was already won and they were in the Scottish Cup final. The fans sang happy birthday dear Celtic, another double beckoned but a formidable Dundee United stood in their way.
The match, played at Hampden, was a 74,000 sell-out. United were no pushovers and were considered slight favourites to lift the cup. Four previous attempts in the final had failed and they had also been narrowly beaten in the UEFA cup final. They were determined to take the cup north and got the first goal in 48 minutes with a fantastic volleyed goal from Kevin Gallacher. He was the great grandson of Celtic's legendary Patsy Gallacher and it was a goal that Patsy would have been proud of.
Billy McNeill, returning to manage the club that season, made two crucial substitutions - Derek Whyte and Andy Walker off, Mark McGhee and Billy Stark on. In the 74th minute, Anton Rogan made a run up United's right wing and sent a perfect cross into the Arabs' penalty area. Thompson failed to make it his and Frank McAvennie reacted to head the ball into the net for the equaliser. With only thirty seconds left to the final whistle, Joe Miller took a corner, Billy Stark's shot rebounded off of a United defender and again McAvennie reacted fastest to score his and Celtic's second. The cup was won, a league and cup double in their Centenary Year and the history continues.
Match Programme
Match Ticket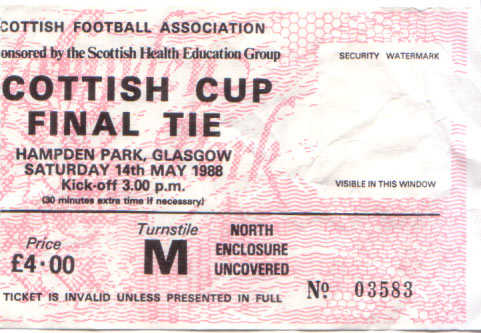 Margaret Thatcher
The Iron Lady
One thing that spoiled this final was the attendance of that old Tory butcher Maggie Thatcher. She was responsible for many of the problems that Scotland (Ireland, England and Wales) and it's people were suffering at the time and the general feeling that she should never have been asked to attend this match. Unemployment, the Poll tax, public assets sold off, national industries ended and more is the Thatcher legacy for Scotland and she was made unwelcome by everyone except the SFA.
To help the fans display their utter disgust at her, the Greater Glasgow Health Joint Trade Union Committee published a leaflet that was printed by Labour Communications Limited. The leaflet was red on both sides and was distributed to the fans outside the stadium so they could hold it up when the PM appeared. The fans took part without persuasion and, when she appeared, a sea of red cards were shown around the entire stadium in a gesture of sending her off. She, off course, ignored it in her usual arrogant manner.
Thatcher's Red Card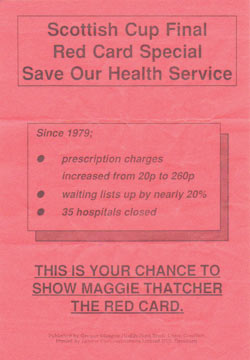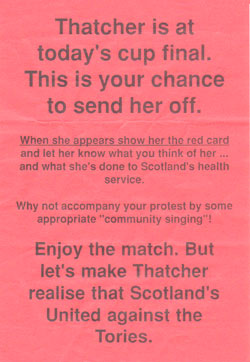 Both sides of Maggie's red card
Celtic
Manager: Billy MCNEIL
Scorer: McAvennie 74, 90.
Team: McKnight, Morris, Rogan, Aitken, McCarthy, Whyte (Stark), Miller, McStay, McAvennie, Walker (McGhee), Burns.
Dundee United
Manager: Jim MCLEAN
Scorer: Gallacher 48.
Team: Thompson, Bowman, Malpas, McInally, Hegarty, Narey, Bannon, Gallacher, Paatalainen (Clark), Ferguson, McKinlay.