Celtic Fixtures & Results 1997/1998
Celtic 2 St Johnstone 0
Bell's Premier League
Match Programme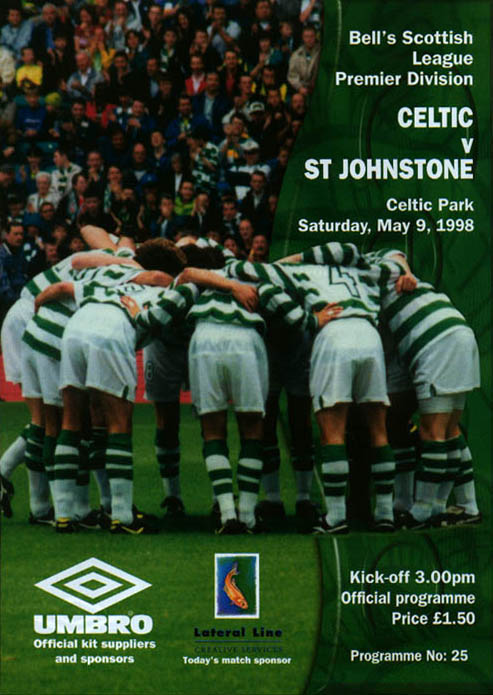 Match Ticket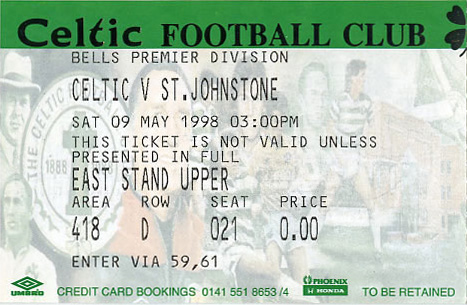 Opponents: v St Johnstone
Competition: Bell's Premier League
Date: 09/05/1998
Venue: Celtic Park, Glasgow
Score: 2-0
Scorers: Larsson, Brattbakk
Referee: unknown
Attendance: 50,032
Comments: League clincher that stopped an EBT 10 in a row. An absolutely amazing feat by Wim Jansen, Murdo MacLeod and the Celtic team when you consider what was going on across the city. The last time Celtic fans invaded the field of play to celebrate en masse.
Celtic Team
Manager: Wim Jansen
Scorers: Larsson, Brattbakk
Team: Gould, Boyd, Annoni, McNamara, Rieper, Stubbs, Larsson (Blinker), Burley, Donnelly (Brattbakk), Lambert (Weighorst), O'Donnell.
Subs not used: unknown.
Saints Team
Manager: unknown
Scorers: unknown
Team: unknown.
Subs not used: unknown.
---