Match Programme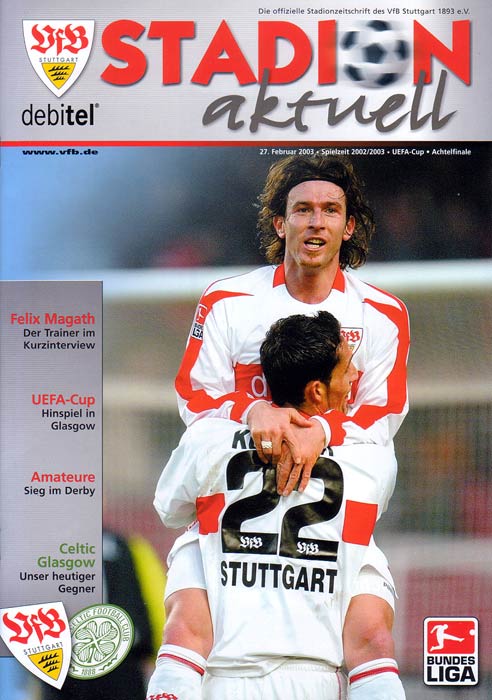 Match Ticket
Below is the ticket that was distributed by Celtic ticket office to fans succesful in the ballot - 115mm by 73mm. Two other tickets were being used by Celtic fans at the match - a big red coloured ticket distributed by various travel agents for the neutral part of the ground and various really bad forgeries (not even as 'good' as the Blackburn forgeries).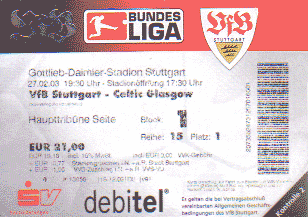 Pirate Match Programme
The programme below is a pirate which was sold outside the stadium. This programme is a scarce issue and the most difficult pirate to get that was issued by the Spanish pirateers in 2002/2003.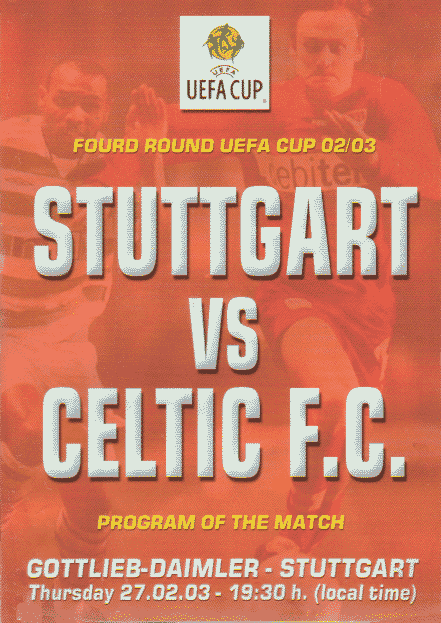 Match Stats
Opponents: v VfB STUTTGART 1893 e.V.
Competition: UEFA Cup Round 4, Leg 2
Date: 27/02/2003
Venue: Gottlieb-Daimler-Stadion, Stuttgart
Score: 2-3
Scorers: Thompson, Sutton
Referee: Jan W. Wegereef (HOL)
Attendance: 50,600
Comments: Future Celt Andreas Hinkel played for Stuttgart in this match .
Celtic Team
Manager: Martin O'Neill
Scorers: Thompson 12, Sutton 14
Team: Douglas, Valgaeren, Balde, Laursen, Agathe, Lennon, Lambert (c) (Maloney 82), Petrov, Thompson, Hartson, Sutton (McNamara 82).
Subs not used: Marshall (g/k), Mjällby, Crainey, Guppy, Sylla.
Stuttgart Team
Manager: Felix Magath
Scorers: Tiffert 37, hleb 76, Mutzel 87
Team: Hildebrand, Hinkel, Tiffert, Wenzel, Gerber, Balakov, Dangelmayr, Amanatidis, Hleb, Soldo, Kuranyi.
Subs not used: Ernst, Ganea, Schneider, Seitz, Luz, Mutzel, Rundio .