Opponents: v Albion Rovers
Competition: The Innaugural Jock Stein Friendship Cup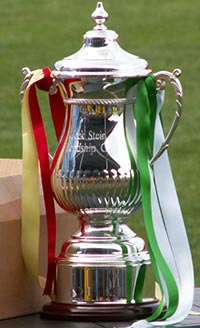 Date: 22/07/2006
Venue: Cliftonhill Stadium, Coatbridge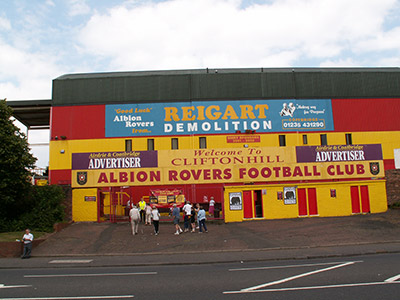 Score: 3-2
Scorers: Millar (2), Sheridan
Referee: Ewan Norris (Scotland)
Attendance: 1002
Comments:
Albion Rovers Supporters' Trust produced a special edition A5 program comprising 28 pages in full colour for £2 (700 print run). It is a great production containing many pages about the man himself. The match was played for the newly-constituted trophy to be called the "Jock Stein Friendship Cup". The Big Man played for both clubs, starting his senior professional career at Albion Rovers in 1942.
His debut for Rovers was, amazingly, against Celtic in a 4-4 draw where he played as a trialist against the likes of Jimmy Delaney, John McPhail, Bobby Evans and Malcolm MacDonald. After that debut, Big Jock became Rovers' regular centre-half for the next eight seasons before moving on to Llanelly of Wales in 1950.
He didn't spend much time in Wales for in December 1951 Jock signed for Celtic and so began his long and successful association with the Green and White hoops.
Many thanks to ALL of the staff at Cliftonhill for making the Celtic fans so welcome. It makes a change from being treated like dirt at Celtic Park (and every other SPL ground in the country) from the minute you step off of the supporters bus until the minute you leave the bus park. Even the stewards at Cliftonhill were courteous and more than helpful, the catering staff couldn't be nicer (as opposed to the morons that serve up the vomit at Celtic Park). Oh and the pies were superb.
Good luck to the Rovers in the future.
Celtic Team
Manager: W. McStay
Scorers: Millar 35, 52, Sheridan 36
Team: unknown.
Subs not used: unknown.

Rovers Team
Manager: unknown
Scorers: Sichi 16, Chaplain 40
Team: unknown.
Subs not used: unknown.