No Match Programme
After a 1-0 (McNeill) Celtic victory in a torrid match in Glasgow and a 1-2 (Gemmell) (Raffo and Cardenas for Racing) defeat in the tie in Buenos Aires on 1st November, a third match was played in Montevideo in Uruguay three days later (0-1 Cardenas for Racing). No programme was issued for the play-off game.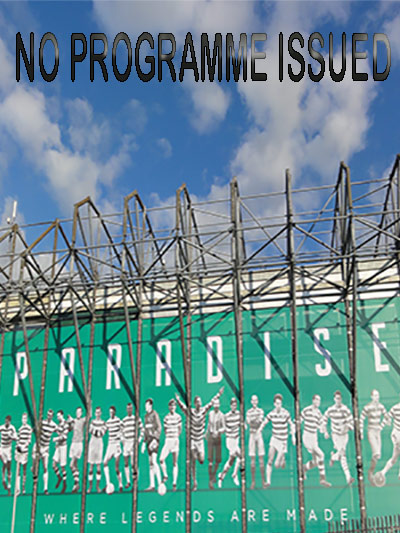 Match Stats
Opponents: v Racing Club of Argentina
Competition: Inter-Continental Cup, Play-off Leg
Date: 05/11/1967
Venue: Centenario, Montevideo
Score: 0-1
Scorers: n/a
Referee: R. P. Osorio (PARAGUAY)
Attendance: 75,000
Comments: Racing won the match by a single goal scored by Cárdenas. It was a brutal match with 6 players sent off and the police called onto the field twice to restore order.
Ronnie Simpson Injured By A Missile From The Crowd
Ronnie Simpson holds his head after being hit by a missile from the Racing fans. The incident happened just before kick-off and was serious enough to have John Fallon take over in goal. Jimmy Johnstone(7) and Willie Wallace (8) are the other players.
Celtic Team
Manager: Jock Stein
Scorers: n/a
Team: Fallon, Craig, Gemmell, Murdoch, McNeill (c), Clark, Johnstone, Lennox, Wallace, Auld, Hughes.
Racing Team
Manager: Juan Jose Pizzuti
Scorers: Juan Carlos Cárdenas 55
Team: Cejas, Perfumo, Chabay, Martín (c), Rulli, Basile, Cardoso, Maschio, Cárdenas, Rodríguez, Raffo.