North American Tour
1931

Ticket for the cancelled match against Newark Americans
This was Celtic's first ever tour of the USA and it was taken during the Great Depression. The Celtic party left Yorkhill quay in Glasgow on a Caledonia steamship and arrived in New York in late May. Times were hard as was shown in the game against Montreal Carsteel when Peter Scarff scored five goals while wearing a green dress shirt because there weren't enough hooped strips to go around. Celtic players on the tour: William Cook, Charles Geatons, William Hughes, Joe McGhee, Denis Currie, Alex Thompson, Peter McGonigle, James McStay, John Morrison, Charles Napier, Hugh Smith, John Thompson, Robert Thompson, Robert Whitelaw, Peter Wilson, Peter Scarff, James McGrory. Manager: William Maley.
The return journey was made aboard the Anchor Line steamship (joint Cunard-Anchor Line service) Transylvania. The Transylvania was converted to an Armed Merchant Cruiser at the start of WWII, and was torpedoed and sunk by a German U-boat U-56 off Inishtrahull in August 1940.
Against Hakoah All-Stars, Jimmy McGrory broke his jaw and Charlie Napier and Peter Scarff were sent off along with two Hakoah players. Football was rough in the 30's and in the match against Pawtucket Rangers the Celtic players needed help in order to leave the ground safely. Celtic historians, Tom Campbell and Pat Woods, mention this in their book "Images of Scotland: Celtic Football Club 1887 - 1967" -
A Celtic vs Rangers match, but in Providence, Rhode Island. The 'friendly' turned into a roughhouse affair and Celtic required a police escort at time-up
Willie Maley was far from complimentary about the arrangements.
"The ground was like a furnace, the dressing-room conditions disgraceful and the referee had no control whatever."
During this tour Celtic spotted two future Celts. The first was Montreal born goalkeeper Joe Kennaway who was playing for Fall River F.C. when Celtic spotted him. He later signed for Celtic - to replace John Thompson who was tragically killed that September - and was an immediate success. Kennaway played for Celtic from 1931 to 1939 winning three Scottish F.A. cup medals and two Scottish championship medals. He played four times for the Scottish League team (Ireland twice and England twice) and also for Scotland against Austria at Hampden Park in 1933 - he also played for Canada against the USA in 1926 making him a rare double international. He returned to Canada at the outbreak of the second World War but later moved to Providence where he played and then coached at Brown University from 1946 to 1959. Joe Kennaway became an American citizen in 1948. He was posthumously inducted into the New England Soccer Hall of Fame in 1997.
JOE KENNAWAY
Born: Point St. Charles, Montreal, Quebec, Jan 25, 1905. Died Johnston, Rhode Island, March 7, 1969.
The second, James McGuire was Scottish by birth and had gone to the United States in the mid-1920s after winning two Scottish schoolboy international caps. His first major club was the Brooklyn Wanderers, a team he joined in 1929 and quickly established himself in a lineup of experienced players. McGuire returned to Scotland with Celtic immediately after the tour. However, he failed to get into the the first team and was soon on his way to England where he played 70 games for Northhampton Town between 1932 and 1936. When he left Northhampton he returned to the States and played for Brooklyn St. Mary's Celtic. St Mary's reached the U.S. Open Cup final in 1938 only to lose to Chicago Sparta. One year later, with McGuire at centre half, his team won the trophy by defeating Chicago Manhattan Beer. When he retired as a player he turned to administration and served two separate terms as president of the United States Soccer Football Association and was a member of the FIFA Organizing Committee for the 1974 World Cup in West Germany.
JAMES McGUIRE
Born in Edinburgh, Scotland in 1911 and died in Hyde Park, NY on November 26, 1974
Celtic achieved 9 wins, 1 draw, 3 losses in thirteen matches. Celtic scored 48 goals with 18 against. Details below.
Opponents
Comments
Eastern Pennsylvania & District XI

23/05/31
Celtic 6, East Penn & District 1
Yellow Jacket Field, Philadelphia, PA

No Programme. (att: 12,000)

New York Giants

24/05/31
Celtic 3, New York Giants 2
Polo Grounds, New York City

No Programme.(att: 30,000)

New York Yankees (formerly Fall River)

30/05/31
New York Yankees 4, Celtic 3
Fenway Park, Boston, MA

No Programme. (att: 8,000)
Formerly known as Fall River Marksmen. Played at the home of the Boston Red Sox baseball team. Billy Gonsalves scored a hat-trick for NYY.

Fall River F.C.

31/05/31
Fall River F. C. 1, Celtic 0
Mark's Stadium, North Tiverton, Rhode Island

No Programme. (att: 7,000).
Joe Kennaway played for Fall River in this match. Billy Wilson scored with a free kick.


Pawtucket Rangers

06/06/31
Pawtucket Rangers 3, Celtic 1
Cyclodrome, Providence, Rhode Island
(att: 4,000)
Brooklyn Wanderers

07/06/31
Celtic 5, Brooklyn Wanderers 0
Ebbetts Field, Brooklyn, NY
No Programme. (att: 10,000).
Ex-Celtic forward Willie Crilly played for Brooklyn.

Montreal Carsteels

13/06/31
Celtic 7, Carsteels 0
Montreal, Quebec, CANADA
No Programme.
Peter Scarff scored 5 goals in this match.

Hakoah All-Stars

14/06/31
Celtic 1, Hakoah All-Stars 1
Polo grounds, New York City
No Programme.(att: 20,000).
Later that year, Spanish club Racing Club of Madrid played here to a crowd of only 2,000. A very rough match - Napier off for fighting and Scarff sent off for fouling. Napier scored the Celtic goal.

Bricklayers

21/06/31
Celtic 6, Bricklayers 3
Chicago Cubs, Chicago, IL
No Programme. (att: 11,000)


Michigan All-Stars

25/06/31
Celtic 5, Michigan XI 0
University of Detroit Stadium
Att: 5,000)
First time Celtic played at night under floodlights. Referee: D. Evans.
Ulster United
27/06/31
Celtic 3, Ulster United 1
Toronto, ON, Canada


No Programme.



New York Yankees
28/06/31
Celtic 4, New York Yankees 1
Yankee Stadium, New York City


No Programme.

(att: 10,000)
Newark Americans
29/06/31
Bears' Stadium, Newark.
Match cancelled.

No Programme.

Canton S.C.
29/06/31
Celtic 4, Canton SC 1
Baltimore, MD


No Programme.
NORTH AMERICAN TOUR
1951
In 1951 the Celts went to Toronto to play Fulham of England after winning the Scottish Cup against Motherwell. Celtic Travelled aboard the S.S. Queen Mary and arrived at New York City on 14 May 1951. The Canadian Soccer Football Association and the United States Soccer Football Association, co-sponsors of the Celts tour, thought it would be appropriate for them to bring the cup along. Jimmy McGrory was the manager and true to the Celtic tradition (don't spend too much money) the prized possession of the Scottish FA was taken to New York in a small wooden box. In New York the wooden box was lost and McGrory picked up a shopping bag from Macy's, one of New York's top department stores. The team arrived in Toronto around eight o'clock and newspapermen and radio commentators were on hand, television was not in vogue in those days. Stepping from the train at Toronto's Union Station McGrory asked "Where the hell is the cup?" Nobody could find it but eventually a young Scottish lad, taking his holidays to follow his favourite team, said "Mr McGrory here it is." The story was used throughout the World and since then the Scottish Cup has never again been allowed out of Scotland.
Players at the time included McPhail (captain), Hunter, Fallon, Rollo, Evans, Boden, Baillie, Weir, Collins, Peacock and Tully. Back in Scotland after the tour, Celtic added the St. Mungo Cup to their list of honours.
GILES HERON
Giles Heron was born in Kingston, Jamaica in 1922. He played at centre forward for the Jamaican national team as well as playing for the American club side Detroit Corinthians. During this tour he was spotted by a Celtic scout and signed on 5th August 1951. He scored on his debut a 2-1 win against Morton and quickly became known as the 'Black Flash'. He played his last match for Celtic on 1st December 1951 and by May 1952 he was released by the club and signed for Third Lanark. Tom Campbell in his book titled "CHARLIE TULLY- Celtic's Cheeky Chappie" from (available from Breedon Books £16.99) suggests a reason why this talented player left Celtic so quickly while discussing the factions that were apparent in the Celtic dressing room at the time "Gil Heron was another victim of the cliques operating within Celtic Park." Campbell is suggesting that (although not alone) Gil Heron was not liked by the Tully, Weir and McPhail clique. After Third Lanark, Heron also played for Kidderminster Harriers before returning to play for his original club. He excelled at many sports including boxing, cricket and ice-hockey. Father of highly regarded jazz musician and poet Gil Scott Heron whose lyrics and music inspired the majority of cutting edge American Black musicians in the late 70's and 80's.
Opponents
Comments
New York All Stars
20/05/51
New York All Stars 1 v Celtic 5
New York.


No Programme.

Fulham
27/05/51
Fulham 0 v Celtic 2
New York.


No Programme.

Eintracht Frankfurt
30/05/51
Eintracht 1 v Celtic 3
New York.


No Programme.

Philadelphia All Stars
03/06/51
Philadelphia All Stars 2 v Celtic 6
Cahill Field, Philadelphia.
Canadian National League
05/06/51
National League 1 v Celtic 2
C.N.E. Stadium, Toronto.
Chicago Polish Eagles
08/06/51
Eagles 0 v Celtic 4
University of Detroit.
Played for the D.Kennedy Cup - permanent trophy.
Fulham
16/06/51
Fulham 1 v Celtic 1
Varsity Stadium, Toronto.
Kearney XI
17/06/51
Kearney XI 2 v Celtic 2
Kearney High School Stadium, New Jersey.
Fulham
20/06/51
Montreal. Fulham 3 v Celtic 2
Delorimier Stadium,
NORTH AMERICAN TOUR
1957






Celtic made the trip to America aboard Cunard's RMS Mauritania. A menu from the trip, autographed by the Celtic team, was sold on ebay for £112 in March 2004. The seller described the menu as follows "Cunard's RMS Mauritania Menu, dated Monday May 13th 1957, for a Gala Dinner held on board. The back of the menu has been autographed by the players and management of Celtic FC, which include Robert Kelly (Chairman), Jim McGrory (Manager), Sean Fallon, Duncan MacKay, John Donnelly, Eric Smith, Charlie Tully and Bertie Peacock, to name but a few. I think the football team were on their way across the Atlantic for a tour of the USA and Canada. Included in this are three black and white photographs of the Mauritania, which were taken by relations before embarking at Southampton, as the ship set sail with my grandparents aboard." The menu is displayed below.
Autographed RMS Mauritania Menu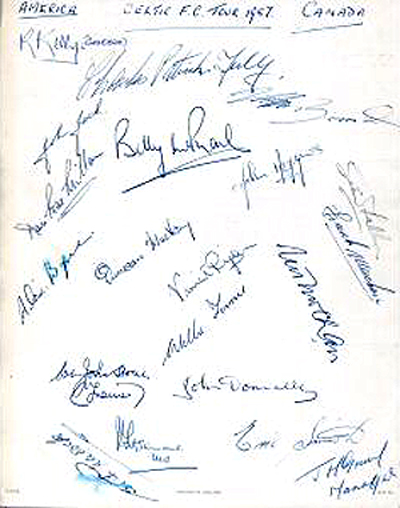 Opponents
Comments
Tottenham Hotspur
19/05/57
Tottenham Hotspur 4 v Celtic 3
New York
Philadelphia Uhrik Truckers

25/05/57
Philadelphia Uhrik Truckers 0 v Celtic 4
Temple University Stadium Philadelphia
Att: 12,342.


Hapoel (Tel Aviv)

26/05/57
Hapoel 1 v Celtic 2
in New York
Att: 10,000.
No Programme.

St Louis CYC All-Stars
29/05/57
St Louis AS 0 v Celtic 3
Public Schools Stadium, St Louis
Att: 3,000
Tottenham Hotspur
01/06/57
Tottenham Hotspur 6 v Celtic 3
Empire Stadium, Vancouver
Attendance: 21,121
San Francisco XI
05/06/57
San Francisco XI 0 v Celtic 5
Kezar Stadium, San Francisco

Tottenham Hotspur
08/06/57
Tottenham Hotspur 3 v Celtic 1.
Varsity Stadium, Toronto.
Att: 24,000
Tottenham Hotspur
09/06/57
Tottenham Hotspur 0 v Celtic 2
Delorimier Stadium, Montreal.

NORTH AMERICAN TOUR
1966
This tour of the States started with the team having a holiday in Bermuda and playing against a couple of local teams. It was on this tour living, sleeping and eating together that a young team of Scottish youths would be moulded into the team that became the Champions of Europe in the coming season. Jock Stein saw enough on this tour to convert Bertie Auld from a traditional winger to a midfielder and a partnership with the late, great Bobby Murdoch. We all know how well that worked out.
Bobby Lennox mentions this tour in his 1982 autobiography "A Million Miles For Celtic" (written by Gerry McNee and Forwarded by Jock Stein - ISBN 0 09 150240 3, Stanley Paul publishers). Reading it it is obvious that Bobby really enjoyed himself on this tour for he tells us "... it was a dream and really gave us a chance to mix and get to know each other. Morale was sky high" He goes on to remember some funny moments from the tour -
We were there only a couple of days when my buddy Jimmy Johnstone and I bought a couple of 'Texas-Style' hats to make us look like a couple of big shots! We had decided to mosey along to the room shared by Billy McNeill and John Clark to show off our purchases. Billy looked really impressed as he took the hat from my head then with a grin and a flick of the wrist sent it spinning across the room, over the balcony and down eight storeys! I remained calm and casually picked up a book by his bedside and inquired, "Enjoying this Billy?" Before he could reply I had sent it spinning in the same direction as my hat. He froze in his tracks with a look of horror on his face and I remember thinking, "It can't be that good a book". John Clark flew past me onto the balcony and as I ran over it was raining five pound notes. Billy's entire holiday money had been hidden in the pages!
In eleven matches played, Celtic scored 47 goals and conceded only 6. The table below shows a list of all matches played, dates, venues, results and indicates if a programme was issued or not.
Tour dates: May 12, 1966 - June 12, 1966. Results: 8 wins, 0 draws, 3 losses | Goals: 47 for, 6 against.
" with that impressive record behind us we looked forward to 1966-7 with confidence yet not realizing that for all of us the greatest season of our lives was about to dawn."

Bobby Lennox
Celtic returned from this tour to win every competition that they entered during the 1966/67 season. They won the European cup, beating Internationale Milan 2-1 in the final in Lisbon, pipped a great Rangers team to the Scottish League Championship, beat Aberdeen in the Scottish FA Cup final and won the Scottish League Cup beating Rangers (again) at Hampden Park.
Opponents
Comments
Bermuda

12/05/66
Bermuda 1 v Celtic 10
Bermuda
Joint issue

Bermuda YMCA

15/05/66
Bermuda YM 0 v Celtic 7
Bermuda
Joint issue

New Jersey All Stars
18/05/66
in Kearney. in Kearney, NJ NJ All Stars 0 v Celtic 6


No Programme.

Tottenham Hotspur
21/05/66
Tottenham Hotspur 0 v Celtic 1
University Stadium, Toronto.
Hamilton Primo X1
25/05/66
Hamilton Primo XI 0 v Celtic 11
Hamilton, Ontario.

Bologna
27/05/66
Bologna 0 v Celtic 0
Roosevelt Stadium, Jersey City, New York.
This could have been Torino. See this page.
St Louis CYC All-Stars
29/05/66
St Louis.CYC 1 v Celtic 6
Roosevelt High School Field
Tottenham Hotspur
01/06/66
Tottenham 1 Celtic 2
Kezar Stadium, San Francisco.
Joint issue with Bayern. Att-11,000
Tottenham Hotspur

04/06/66
Tottenham 1 Celtic 1
Empire Stadium, Vancouver.


Programme sold for £ 112 Oct 2005.

Bayern Munich
08/06/66
Bayern Munich 2 Celtic 2
Kezar Stadium, San Francisco. Joint issue with Spurs.

Atlas
12/06/66
Atlas 0 Celtic 1
Los Angeles Memorial Coliseum, Los Angeles.
A copy of this sold for £109.77 on 21-Apr-08. Here is the sellers description "Programme is in decent condition, has some creasing, and on the front cover,the result of the Celtic match has been neatly noted." The seller supplied 3 photos and from them rusty staples were also apparent.
NORTH/SOUTH AMERICAN TOUR

1968

The tour of North and South America and Canada in 1968 was more of a holiday than work for the players of that time. The team arrived in the states on May 16 but didn't play their first match until ten days later. The mode of transport was vastly more modern than that used by the touring Celtic teams of the 30's and 50's. Those teams had traveled by sea on a Cunard liner and the journey took days rather than hours. This group of young Celts were getting used to the best and, for once, it looks like no expense was spared. Writing in his tour diary, Dr John Fitzsimons described the journey ....

"Splendidly attired in green club blazers and grey flannels our party of 16 players and five officials board the plane at Prestwick Airport that is to take us to New York on the first stage of our transatlantic tour."

The green club jackets and matching grey flannels didn't last long for he tells us later that ....

"For the next week the players are free to enjoy themselves as they please. The first indication that all are in true holiday mood is the casual wear chosen by those immaculate young men of 24 hours ago. Some of the creations now being paraded would make the Beatles look staid by comparison."

The party had arrived in New York at 4 p.m. local time, 40 minutes faster than the 6 and a bit hours it was scheduled to take. However, this was only the first leg of the journey. The camp where the team was to be based was in Newport, a suburb of Miami in Florida. By 6 p.m. they were aboard a Boeing 727 bound for Miami and their resort motel. The players and officials were very impressed by the facilities for Dr Fitzsimons ended his first day entry by describing the accommodation .....

"Motel! Picture our surprise and pleasure when we behold a magnificent 14-storey hotel situated right on the beach and with all the other trappings of luxury at hand. We find ourselves housed in the Penthouse suites. Scrumptious!"

Over the next few days the Celtic party relaxed and took advantage of all that Miami has to offer. Colour television (this was new technology) with multiple channels, deep sea fishing and golf were among the favourites. On the 24th of May it was time to leave Miami and board the plane back to New York in time for the entire party to attend the Bob Foster v Dick Tiger light heavyweight championship boxing bout at New York's Madison Square Garden.

It was still two days until the first of the two matches played against A.C. Milan. On the 25th they went to the famous New Belmont Racetrack and on the 26th attended a service in St. Patrick's Cathedral. That night Celtic met A.C. Milan at the Roosevelt Stadium in the first of the two matches. Milan were champions of Europe and Italy and half of the fans attending the match were there in support of the Italians. Celtic only managed a 1-1 draw which disappointed the players and officials but they would get another chance in the match in Toronto .... and there was to be a trophy up for grabs.

On the 28th, Celtic took a short flight from NY to Toronto and booked into the Royal York Hotel. The tempo was changing. Not so relaxed as it had been as Dr Fitzsimons recorded .....

"the big man [JS] is back on the ball and it's now training in earnest."

The match in the C.N.E. Stadium in Toronto was scheduled for June 1st and 31,000 fans turned up to set a stadium record attendance. Celtic are magnificent during the match and give Milan a taste of what Inter had suffered just 1 year earlier in Lisbon. Celtic attacked from start to finish, scoring two goals through Lennox and Gallagher with no reply from the Italians.

The final match of the tour was against Nececa of Mexico in Mexico City. Because of the difference in altitude, some of the party have difficulty breathing properly and it seems to affect the players during the match. At half-time Celtic are 3-1 down, Billy McNeill heading Celtic's only goal. During the half-time break the Celtic players are given oxygen and they play a bit better in the 2nd half - Wallace scoring to make the final score 3-2 to Nececa. On June 5th the players took a cultural excursion to the Mexican pyramids and visited the shrine of Our Lady of Guadeloupe which, in 1999, became the most-visited Catholic shrine in the world.

The next day the party departed for Glasgow and arrived back at the old Abbotsinch airport in Paisley (now Glasgow Airport).

Dunfermline Athletic were also on tour in the USA in 1968. They played 10 games with 3 wins, 6 draws and only 1 loss against Greek-Americans in New York City. During this tour the Pars played three games against Manchester City without defeat..

Opponents
Date
Issued
Comments
AC Milan
May 26
yes
at the Roosevelt Stadium, Jersey City, New York.
AC Milan 1 Celtic 1 (Attendance 20,000)
AC Milan
Jun 1
yes
at the C.N.E. Stadium, Toronto. Billed as the First Annual C.N.E. Cup of Champions.
AC Milan 0 Celtic 2 - Lennox and Gallagher (Attendance 31,000)
Club Necaxa FC
4
no
Mexico City. Necaxa 3 Celtic 2 - McNeill and Wallace
NORTH AMERICAN TOUR
1970
Opponents
Date
Issued
Comments
Manchester United
May 11
yes
Toronto Cup match at the Varsity Stadium, Toronto. Att: 24,000.
Manchester Utd 2 v Celtic 0.
AS Bari
13
yes
at Downing Stadium, Randall's Island, New York. Att: 6,806.
AS Bari 1 v Celtic 1
AS Bari
17
yes
Toronto Cup match at the C.N.E. Stadium, Toronto. Originally scheduled to be played on Saturday 16th but torrential rain delayed the match until the 17th. Attendance 3,138
AS Bari 2 v Celtic 2 (abandoned when Bari players refused to play on after Celtic were awarded a penalty.)
New England All Stars
20
no
Delboys Stadium, Boston. Att: 4,000.
New England All-Stars 1 v Celtic 7.
Team: Williams, Craig, Hay, Murdoch, McNeill, Callaghan, Hood, Dalglish, Wallace, Davidson, Lennox.
Eintracht Frankfurt
22
yes
Downing Stadium, Randall's Island, New York New York. Att: 6,282.
Eintracht 3 v Celtic 1.
Bermuda XI
24
no
National Stadium, Hamilton, Bermuda. Att: 4,000.
Team: Fallon, Craig, Hay, Murdoch, Cattanach, Callaghan, Hood, Macari, Wallace, Davidson, Lennox. Celtic 7 v Bermuda 1. Scorers: Davidson 3, Macari, Wallace (pen), Lennox, Hood.
Somerset CC
31
no
National Stadium, Hamilton, Bermuda. Att: 4,000.
Team: Fallon, Craig, Hay, Cattanach, Murdoch, Callaghan, Davidson, Dalglish, Hood, Macari, Lennox. Celtic 4 v Somerset 1. Scorers: Callaghan, Macari, Lennox, Dalglish.
BERMUDA
1972
The Celtic team that went on this break to Bermuda had just won the 7th League Championship in a row and this trip was arranged as a reward.On returning home after the trip, Jock Stein said "The players deserved this break. They have worked hard for it all season.". They were based at the luxurious Princess Hotel in Hamilton Harbour. The trip went well and Celtic won both games easily against local sides.
In the first game, Celtic beat Somerset 2-0 with both goals from Bobby Lennox - one in each half. The team for that match was - Williams, Hay, Quinn, Murdoch, McNeill, Connelly, Wilson, Dalglish, Deans, Callaghan, Lennox. Subs - McCluskey, Davidson, Hood.
In the second match, Pembroke got on the end of an 8-1 thrashing with Lennox scoring four, Macari two, Connelly and McCluskey grabbing one a piece. The team for that match was - Williams, McCluskey, Quinn, Murdoch, McNeill, Connelly, Hood, Macari, Wilson, Callaghan, Lennox. Subs - Dalglish, Davidson, Deans. Billy McNeill was sent off in this match for a remark to referee Carlisle Crockwell - who had Tommy Docherty suspended for remarks made during a visit by Chelsea six years earlier.
No one knows if a programme was issued for either of these matches. If you are living in Bermuda and can help us out with this please send us any info you can on any literature published during this tour.
The pictures below appeared as part of a tour report in the Celtic View of June 1972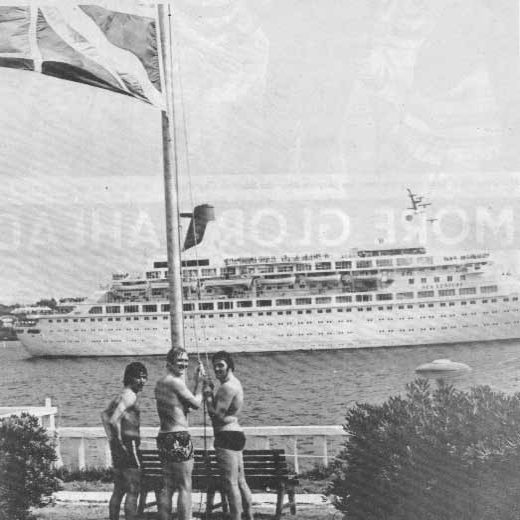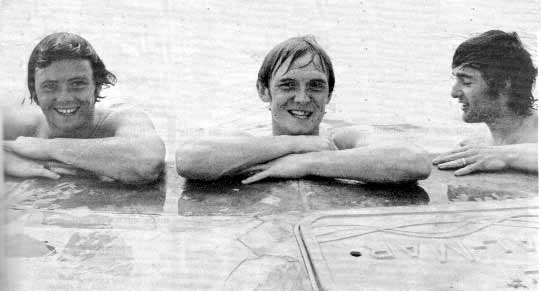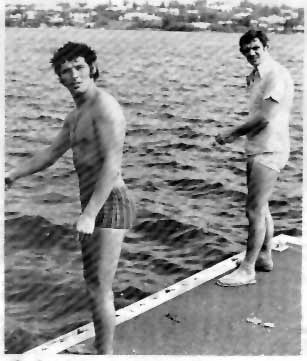 | | | | |
| --- | --- | --- | --- |
| Opponents | Date | Issued | Comments |
| Somerset (Bermuda) | June 3 | unlikely | in Bermuda. Somerset 0 v Celtic 2 |
| Pembroke (Bermuda) | June 8 | unlikely | in Bermuda. Pembroke 1 v Celtic 8 |
NASL TRANS-ATLANTIC CHALLENGE CUP

1981

The NASL Trans-Atlantic Challenge Cup (shown above) was in existence for only 5 season from 1980 to 1984. In the 1981 tournament Celtic were a late replacement for Shakhtyor Donetsk, the Soviet (Ukranian) team that withdrew because Cosmos intended to field a South African (this was in the days of apartheid.) In his article in the New York Times called "FOREIGN SOCCER TEAMS LACK PRACTICE", Alex Yannis wites that "The Scottish team was a last-minute replacement for a Soviet team that withdrew because the Cosmos planned to play Steve Wegerle, a native of South Africa."

In the same article, John Clark (in charge as Billy McNeill did not travel to the tournament) said "I don't want this to sound like an excuse but we came here in the middle of their season. Fitnesswise, we're about 40 percent short. We haven't played a match for eight to nine weeks." Infact, The Celts hadn't kicked a ball in ernest since playing St Mirren on 2nd May, the last day of the 80/81 season.

As well as Celtic, there was Southampton FC from England, New York Cosmos and Seattle Sounders of the N.A.S.L. (North American Soccer League. - now defunct) Seattle Sounders beat Celtic and were the eventual winners of the 1981 tournament. Celtic also lost out to the Cosmos but managed to beat a Southampton team that included Kevin Keegan other English stars in the third/fourth place play-off match. Like Celtic, Southampton were not yet match fit and in their close-season trianing but they had more time to plan for the tournament, having agreed to take part just after the season had ended in England.

Here is a full list of the Challenge Cup winners -

1980 New York Cosmos
1981 Seattle Sounder
1982 Chicago Sting
1983 New York Cosmos
1984 New York Cosmos

This site - www.soundercentral.com is an excellent resource for NASL T-AC. The ticket below is for the Seattle Sounders v Celtic match and is displayed there along with some excellent memorabilia from the matches that you are unlikely to have seen before including some action photos from the games that include players like Charlie Nicholas and Tom McAdam.

Opponents
Date
Issued
Comments
New York Cosmos
July 12
yes
at Giants Stadium / The Meadowlands, New York. NY Cosmos 2 v Celtic 0.
Seattle Sounders
14
yes
at the Seattle KingDome. att - 20,486. Seattle 2 v Celtic 1.
Southampton
19
yes
at Giants Stadium, The Meadowlands, New York. Southampton 1 v Celtic 2
LABATT'S TOURNAMENT
1982
Opponents
Date
Issued
Comments
Toronto Italia
July16
yes
Labatt's tournament joint issue.
Celtic 1 v Toronto Italia 4
Panhellenic
18
yes
Labatt's tournament joint issue.
Celtic 7 v Panhellenic 0
Dinamo Zagreb
20
no
Celtic pulled out of this match and it didn't take place.
THE B.C. PLACE International Soccer Tournament
1985
| | | | |
| --- | --- | --- | --- |
| Opponents | Date | Issued | Comments |
| Pacific Rim Soccer League All-Stars | June6 | yes | Tournament issue. Celtic beat PRSL 2-1. Ajax were beaten on penalty kicks after a 2-2 draw by North Shore Colts. |
| North Shore Colts | 8 | yes | Same issue as above. Attendance: 9,510, Celtic lost 2-1. Mo Johnston scored Celtic's goal. |
SEASON of
1988/89
| | | | |
| --- | --- | --- | --- |
| Opponents | Date | Issued | Comments |
| ORLANDO LIONS | Sept10 | no | in Glasgow. Note - not played in the USA or Canada. |
THE HAMILTON CUP
1994
Opponents
Date
Issued
Comments
Heart of Midlothian
May22
yes

at the Ivor Wynne Stadium,Hamilton, Ontario. Hamilton Cup tournament joint issue. Celtic 1 v Hearts 1

Aberdeen
28
yes
in Ontario. Hamilton Cup tournament joint issue.
Celtic 1 v Aberdeen 0
TAMPA, FLORIDA
2000
CHAMPIONSWORLD SERIES 1

2003

This tour was organised by ChampionsWorld, a New Jersey-based sports promoter The ChampionsWorld Series 1, which also featured Barcelona, Juventus and AC Milan attracted 368,000 spectators in all and was broadcast to more than 50 countries worldwide.

Opponents
Date
Issued
Comments

Jul 22

yes

in Seattle Seahawks Stadium, Seattle.

Attendance: 66,772.

Manchester Utd 4 Celtic 0.

Boca Juniors
25
yes

in Brown's Stadium, Ohio.

Attendance: 20,842.

Celtic 1 (Sutton) Boca Juniors 0.
CHAMPIONSWORLD SERIES 2

2004

Celtic returned to America in July 2004 to play in the 2nd ChampionsWorld Series of matches against Roma, Chelsea, Liverpool and Manchester United. The tour was organised by New Jersey-based sports events promoter Charlie Stillitano, head man of ChampionsWorld. Eight other teams took part - MANCHESTER UNITED (England); AC MILAN (Italy); CHELSEA (England); AS ROMA (Italy); LIVERPOOL (England); BAYERN MUNICH (Germany;) FC PORTO (Portugal). At the start of the 2003/04 season, Celtic lost to Manchester United in Seattle and beat Boca Juniors in Cleveland, Ohio in the inaugural series.

Martin ONeill and his hooooooped heroes were away for 13 days, from 19 to 31 July. The Celtic players had four days rest and light training at their base camp in Seattle before playing Chelsea in the first match on Saturday July 24 in the Seahawks Stadium where they met Man U last year. Next up was our UEFA Cup opponents from last season, Liverpool on Monday July 26 in the Rentschler Field, East Hartford, Connecticut, followed by Manchester United on Wednesday July 28 at Lincoln Financial Field, Philadelphia and finally AS Roma in the SkyDome, Toronto on Saturday, July 31.

Television Coverage was by Fox Sports World/ Fox Sports Espanol and Setanta in the UK. ChampionsWorld made a loss from this tournament and folded as a result.

Opponents
Date
Issued
Comments
Chelsea
Sat 24 Jul
yes
at Qwest Field (Seattle Seahawks Stadium), Seattle, WA.
Liverpool
Mon 26 Jul
yes
at Rentschler Field, East Hartford, CT.
Manchester United
Wed 28 Jul
yes
at Lincoln Financial Field, Philadelphia, PA
A.S.Roma
Sat Jul 31
yes
at SkyDomE, Toronto, ON.
UNITED STATES TOUR

2006

Celtic played three matches against MLS teams in the USA during this tour.

Opponents
Date
Issued
Comments
DC United
Sat 12 Jul
no
at Robert Francis Kennedy Memorial Stadium, Washington.
Chivas de Guadalajara
Mon 14 Jul
no
at New York Giants Stadium, New York.
New England Revolution
Sat 19 Jul
no
at Gillette Stadium, Boston.
UNITED STATES TOUR

2007

Celtic played two matches in the USA during this tour - the first against the MLS All-Stars team and the other against Chicago Fire.

Opponents
Date
Issued
Comments
MLS All-Stars
Thu 19 Jul
yes
at Dick's Sporting Goods Park, Denver.
Chicago Fire
Mon 22 Jul
yes
1-1. Riordin. at Toyota Park, Bridgeview IL.
TORONTO

2009

A young Celtic team were beaten 1-3 by SL Benfica of Portugal in the CNE Cup in Toronto. The match was played as part of the annual Canadian National Exhibition of 2009, the winners receiving the CNE Cup.

Opponents
Date
Issued
Comments
SL Benfica
Wed 2 Sep
no
Played at the BMO Field in Toronto.
USA and CANADA

2010

Opponents
Date
Issued
Comments
Philadelphia Union
14/07/2010
no
Union 1 Celtic 0 at PPL Park, Philadelphia.
Manchester Utd
16/07/2010
yes
United 3 Celtic 1 at Rogers Centre, Toronto.
Seattle Sounders
18/07/2010
no
Seattle 1 Celtic 2 at Qwest Field, Seattle.
Sporting CP
21/07/2010
no
Celtic 1 Sporting 1 at Fenway Park, Boston.
Celtic won the Fenway Football Challenge Trophy 6-5 on penalties.